Wellings is your home, tailored for your comfort, designed for your independence. Our residences are focused on providing a community foundation based on the values of family caring about family. It's up to you: we encourage well-being, as well as physical and mental activity in the hopes your quality of life at Wellings will inspire you to live your epic life.
Carefreedom Living® starts by choosing your favourite floor plan design and securing it with a fully refundable deposit, giving you the flexibility to plan now and move later.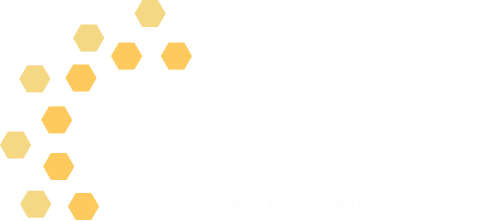 Wellings provides opportunities for residents to connect with their environment, neighbours, staff, family and greater community. The well-being of our members will always be at the heart of the community.
Pets are welcomed on a case-by-case basis. If you have any questions, please call to discuss. We want everyone in the community to be comfortable and happy, including the pets!
COMMUNITY AMENITIES WILL INCLUDE
Fully accessible community
On-site management team
24-hour concierge services
On-site optional secured storage
On-site management and groundskeeper
Fully furnished central clubhouse with kitchen, games & dining
Social clubs, paint nights, TED talks
Weekly fitness classes
A pet-friendly environment
MAINTENANCE-FREE LIFESTYLE
Wellings promotes personal freedom and healthy active living. Our security measures provide a greater level of comfort for our members. You may not see us, but rest assured, we will always be on guard for you with our full-time staff and our state-of-the-art monitoring system. 
We follow all Ontario Health and World Health Organization best practices for germ prevention and sanitization.
Smoke detectors
No-step entry
Fully accessible community
Well-lit common areas 
Secured exterior doors
Exterior building maintenance includes roofing, entrances, sidewalks into the community, all patio areas and lighting.
Landscaping, fertilizing and weeding.
Interior building maintenance includes sanitizing, floors, lighting, painting and maintenance of all common spaces to fire regulation standards.
Interior suite maintenance is as-needed and includes appliances, hard-to-reach lighting, and heating and cooling system for normal wear and tear.
All members will have access to the maintenance ordering system app, located on provided iPad.
Wellings are modern 55+ lifestyle communities that our members breathe life into. We have a front row seat to see the heartwarming transformations occurring as people stop worrying about property values, taxes, maintenance and unexpected expenses. Wellings is likened to a 5-star hotel where you choose what services you want, when you want them.
LOCATION
Waterford is one of the many stops along the "Toast the Coast Trail," a trail of wineries and breweries that run along the great lakes! Enjoy the flavours of award-winning wines, fresh fermented hard ciders, and exceptionally brewed craft beer and spirits. There's no better way to enjoy your retirement than in a region designed for growing hops, grapes, and local produce.
The amenities and services you would need every day are just across the street.
Grocery store
Coffee shop
Auto repair shop
Hospital and health care
Churches
Post office
Banks
Vet services
Local restaurants 
Public transportation 
SUITE AMENITIES AND FLOOR PLANS
Live stress-free knowing your property maintenance is included in your monthly lease. The only additional expenses are your utilities, cable and digital services, giving you full control over your expenditures.  
An on-site maintenance manager is available to provide coordination and support for community elements and events.
Entertaining guests? Just let us know! Additional dinner meals may be ordered in advance – the Concierge can provide additional details. The guest suite may also be booked for overnight guests as well, simply ask your Concierge for details on how to reserve.
Choose from one-bedroom or two-bedroom villa or bungalow-townhome designs. 
Each layout features:
No step entry
Fully accessible 
Plenty of living space
Walk-in shower
In-suite laundry
Appliances
Safety first, smoke detectors and carbon monoxide detectors
GET IN TOUCH WITH US FOR MORE INFORMATION