A VIBRANT NEW COMMUNITY FOR ADULTS 55+
Are you too young and active to live in a retirement home? Discover Wellings, a unique lifestyle option. 
Wellings is for independent adults 55+ who want to live their epic life without the hassle of house maintenance. We are a unique pro-age community celebrating Carefreedom Living®, connecting people who love life on their own terms. We love fun in all forms, from TED type talks to wine testing to fitness classes, but make no mistake: your schedule is your own. Your Wellings lifestyle starts with your goals for the future, and that's just the beginning!
 "No pressure, no schedule, no maintenance. Just the freedom to live life the way I want to, on my own terms." Wellings resident.
Say hello to Carefreedom Living®, in beautiful Waterford, the jewel of Norfolk County.
Nestled in the heart of Norfolk County, Waterford, ON is a quaint community where time almost seems to stand still. Full of antique shops, quaint restaurants and diners, and a river that winds through the area, Waterford is uniquely designed to let you enjoy your lifestyle at a measured pace. Rest assured that removing yourself from the hustle and bustle of a big city will have its benefits, but if you are looking for good shopping and a larger city, you are within 40 from one and only an hour and a half from Toronto.
The choice really is yours.
ADULT LIFESTYLE COMMUNITY
The Wellings of Waterford is an innovative vibrant adult lifestyle community that embraces a simpler way of life designed to let you live a more fun and varied way of life.
Located in Waterford, Ontario, the original Wellings community has been recognized nationally and globally for its innovative design and affordability.
Choose from one & two-bedroom villas or bungalow-towns, 671-1108 square feet, from $1495-$1995 per month.
Every design includes a fully equipped kitchen, climate control, washer and dryer & bathroom with walk-in shower.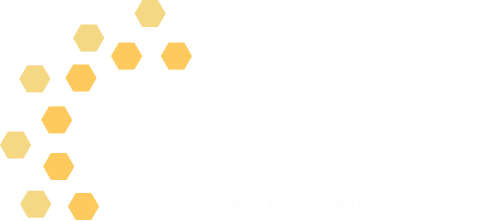 LIVE YOUR EPIC LIFE AT WELLINGS
Connected. Convenient. Carefree.
In The comfort of your own home
At the heart of the Wellings lifestyle is a feeling of freedom surrounded by comfort and convenience. Here's a snapshot into what "a day in the life" might feel like for you, but how you choose to live in the community is up to you. We invite you to make yourself at home.
We are taking all of our health concerns seriously and are now offering one-on-one virtual tours.  Eligible private tours are by appointment and may be available at this time, please connect with us to find out more.
Email MPLANK@WELLINGSOFWATERFORD.COM, or call 1-888-991-7316
Take a look inside our community. 
One-Bedroom Bungalow-Townhome
Two-Bedroom Bungalow-TownhomeS
One-Bedroom Villas
Two-Bedroom Villas
See what our members are saying about their experience.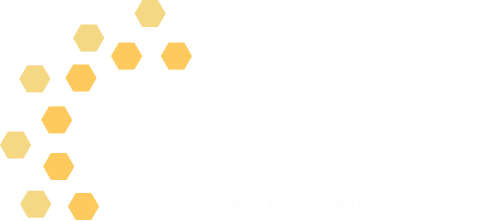 Interested in the Wellings of Waterford
Contact your leasing specialist for community details
Wellings of Waterford
111 BRUCE ST
WATERFORD ON N0E 1Y0

LEASING INQUIRIES:
1-888-991-7316
COMMUNITY CONCIERGE:
519-909-9149
Wellings Of Whitby
372 TAUNTON RD E, UNIT L4B, WHITBY ON &nbsp L1R 0H4
Wellings Of Winchester
MAIN ST W & COUNTY RD 3
WINCHESTER ON &nbsp K0C 2K0
Wellings Of Stittsville
2500 WELLINGS PRIVATE
STITTSVILLE ON &nbsp K2S 2R5
Wellings Of Picton
15 WELLINGS DR
PICTON ON &nbsp K0K 2T0
Wellings Of Corunna
180 BUNKER AV
CORUNNA ON &nbsp N0N 1G0
Wellings of Lloydminster
3211 72 AVE
LLOYDMINSTER AB &nbsp T9V 2Z4
Wellings of Brooks
53 QUEENS WAY EAST
BROOKS AB &nbsp T1R 0V5
Wellings of Stettler
7201 48 AVENUE
STETTLER AB &nbsp T0C 2L1
Wellings of Red Deer
431 TIMBERLANDS DRIVE
RED DEER AB &nbsp T0M 0J0
Wellings Of Calgary
120 NA'A CRESCENT SW
CALGARY AB &nbsp T3B 5V6
Wellings of Chéticamp
L'ANSE DES BOIS MARIÉS ROAD
CHÉTICAMP NOVA SCOTIA